SPECIAL EVENTS
Take in the stunning scenic lookouts and amazing views the Blue Mountains has to offer. This adventure is ideal for p....


WHY CHOOSE US?
WE GO WHERE BUSES CAN'T GO!
We'll show you a different side of the Blue Mountains, join us on an adventure you'll remember forever. Ditch the crowded tourist spots and go off-road instead! Explore remote areas, swim under waterfalls and swap your hotel for a night camping under the stars. We go where buses don't go, we firmly believe that living off the beaten track is where the fun happens and we're passionate about creating unforgettable adventures.
WILDSCAPE ADVENTURES HAS AN ADVENTURE STYLE FOR YOU
Our small group adventurers enable access to remote locations. Choose one of our small group adventures or create your own tailor-made adventure (minimum numbers apply). Tailor made adventures offer you the flexibility to choose your own itinerary, with the help of our team you can decide where and how you would like to explore. We also give you the choice of locations from our Instagram gallery. Our adventurer age is 18 years +
FRIENDLY AND PROFESSIONAL STAFF
We do this because we love it. Our business is built on passion and obsession of exploring the Blue Mountains. Everyone at Wildscape Adventures eats, sleeps, and breathes adventure. Our team of passionate outdoor instructors strive to share their love and knowledge of the wilderness and will guide you through beautiful untouched landscapes.
WE'VE GOT YOUR BACK
Your safety is our top priority. We use the most experienced guides and instructors to ensure you are comfortable and safe throughout your adventure.
OUR MISSION IS TO ENJOY, EDUCATE, PRESERVE AND PROTECT.
We are blessed to enjoy our National Parks and want to see it remain natural, so that future generations can also enjoy the priceless benefits.
HOW MUCH DOES IT COST?
Our prices might seem a little higher than a bus tour - that's because you'll be traveling by four-wheel drive, experiencing an off-road adventure and exploring hidden gems. We can proudly say that we offer experiences that no other company does.
As the most popular national parks get more crowded, where do you go to escape?
Do a little or do a lot, relax or go wild, the choice is yours!
The Blue Mountains offer an incredible diversity of activities, attractions and adventures.
Discover why the Blue Mountains is recognised as one of the world's most spectacular natural wonders.
From Walking trails, star gazing, canyoning, camping, waterfall, climbing, abseiling, kayaking, fishing, mountain biking, hunting, spectacular lookouts, off-road trails, caves, remotes area, pristine rivers, high cliffs and native wildlife.
I love my blue mountains …
START YOUR ADVENTURE SAFELY TODAY WITH A NPWS LICENSED OPERATOR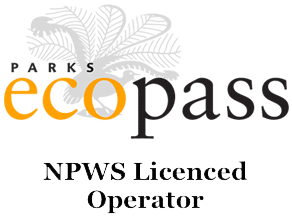 Parks Eco Pass is the NSW National Parks and Wildlife Service system for licensing operators of commercial tours, recreational and educational activities in parks.
Let us curate an inspiring experience as you enjoy your adventure with a professional guide catered to your interests. Whether a one-day trip or multi-trip adventure, you'll be privileged to enjoy this ultimate experience with an expert, as well as the unique bird's eye views atop beautiful mountain tops..
A true off the beaten path experience throughout the Blue mountains. Enjoyed every part of it. Real wild and adventurous experience yet you feel comfortable and secure. We've taken in the past similar tour with other guides and was far away of what we had during this journey. The guide has a rich knowledge of the mountain, its hidden gems, his real adventurous spirit gets you engaged in a special and unforgettable journey. Highly recommended! Markus
Even a true Sydney local was blown away! Just want to give a huge thank you to Mr WildScape for making my experience truly magical. The image of those glow worms shining bright like stars dancing in the night sky.. you just can't capture in a photo, the only sound you could hear of the crystal clear water streaming down the mountain, catching glimpses of very cute possums in the tree, the amazing bush tucker knowledge from Mr WildScape was all a bonus! He has so much respect for the land it's beautiful to see.So glad I found you Mr WildScape! or should I say Mr Mountain Whisperer! Elena Sottolano
HIGHLY RECOMMENDED. Antoine really knows the blue mountains. I told him I wanna go to unique places, with less or no tourists....I want to sleep in a tent next to wallabies....and he took me and my people there. I wish I could go every weekend with him on tours like that. I felt safe all the time. Jasmin.O
Antoine was the perfect guide, he made sure we were always safe, is very knowledgeable and helpful. He's really easy to get along with. Highly reccommended! Sanna.
We had an amazing experience with Antoine. He is fun, extremely knowledgeable, responsible and respectful. Sandra
What can I say FANTASTIC. Our guide Antoine was very knowledgeable extremely passionate about the environment made us feel safe. Been on other guide tours so far this is the best. Thanks Claude.H
What a great experience! It's amazing to see the tiny glow worms light up the cave. A really beautiful site. Our Wildscape Adventures guide was very knowledgeable and shared lots of information along the way. We really enjoyed the entire experience- the glow worms, the 4wheel driving, seeing the wallabies. We would highly recommend this unique and special experience! Bec Brett
Just wanted to thank Antoine from wildscape adventures for such a memorable and educational Blue Mountains wonder filled adventure this last weekend. His knowledge of the mountains was incredible, his care and respect for the environment, radiates passion... There is so much to see and that you just don't experience on a normal trail walk. I am a Sydney sider and have done many trail walks in the mountains prior. If you are looking for an authentic experience, Wildscape Adventures is a must!" Aimee Trapman
Sydney's best kept secrets are the adventures that await outside of it. WildscapeAdventures makes it possible to explore, discover and wander off the beaten path. You will see the things you have only dreamt of seeing in your lifetime. These personalized trips will help you discover what lies outside of Sydney and no one does it better than Wildscape Adventures." Shauna Flynn
Booking Terms and conditions:
Poor weather policy
Our adventures normally operate in all conditions, unless extreme and dangerous weather prevent us from conducting the tour.
Unless you hear from us, assume that your tour is going ahead, we will inform you if your tour is cancelled.
Cancellations policies & refund
Please consider before booking, the following fees apply on cancellations
1. 2 weeks and over no charge.
2. 7 to 14 days, 50 per cent of your fee.
3. Less than 7 days- full fee. If you have to cancel last minute- your booking may be transferable.
4. If a customer cancels a tour after commencement, no refund is given. Failure to show for a tour will result in loss of full fee.
5. Minimum numbers apply for some tours.
Privacy policies:
We are deeply committed to provide you with the best experiences and to protect your privacy.
We only collect information from you that we require in order to help plan your adventure.
We do not sell or lease your details to any other party.
Acknowledgement of country
WildscapeAdventures acknowledge the traditional custodians of the land. We have the privilege of bushwalking, exploring and camping on the land of many Aboriginal nations including the Gundungurra, Dharug, Wiradjuri, Darkinjung and Wanaruah.